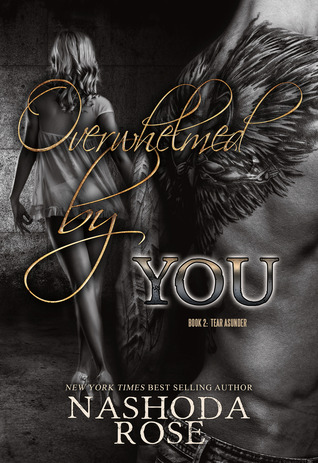 Book Title: Overwhelmed by You
Author: Nashoda Rose
Genre: Contemporary Romance
Release Date: May 27th, 2014
Love is ugly and secrets will destroy you.
KAT
I don't beg.
I don't cry.
And I don't give second chances.
Ream, the lead guitarist of the rock band Tear Asunder, deserves a gold medal for best dick move ever when he ran the moment he discovered my secret after two days of hot sex. Then he brings some chick to my coming home party from the hospital—after being shot.
I hate him.
Until …
Ream's six foot two frame unfolds out of the car after being gone on tour for eight months. I stared. And in my defense, any girl would stare. It would almost be rude not to because Ream was the type of guy who stood out. Not because he was loud and obnoxious. No, it was because he was the complete opposite. Subtle and dangerously quiet. If he spoke, you'd better hope he liked you because otherwise you'd be falling at his feet begging for mercy. Except me … I don't beg—ever.
But when our eyes locked, it was Ream's steady confidence that had my nerves shooting off like jet sprinklers.
Then…
Ream told me he didn't need a second chance because he was still working on his first.
REAM
Sex is ugly. It's using someone for your own narcissistic pleasure. I did it, but hated it—until her. She was unfuckinexpected. Then I had to wreck our beginning with my screwed up past. I don't deserve her, but I'm selfish and I'm taking her anyway. This is who I am and it's too late to change me.
*Warning contains violence, sexual content, and coarse language. Some scenes may be triggers. Mature audiences 18+
A contemporary romance with lots of angst.
BUY NOW
4 STARS!!!
I went into reading this with certain expectations and I was not disappointed because the author managed to surpass my expectations. This book took a direction that surprised me as well as  things being revealed that blew my theories away- Let me tell you I loved the unexpected!
Ream was a bit of an asshole in the first book and while I actually like that in my hero, I don't like one that calls the heroine names and hurts her on  purpose- that's what he seemed to do in Torn From You.  When I started reading, I  was preparing to do this to Ream
But I ended up wanting to do this
Ream is a complete mystery for most of the book, he kept his emotions and secrets deeply guarded. I thought I could hazard a guess as to what it is he's hiding, however not all my theories were proven correct. Ream is a hero who is beyond broken!
We start this novel with a determined Ream, vying to win the girl he wants and fighting for his first and real chance at love.
"Second chances are for when you're done with the first. I wasn't done. I'll never be done. I don't need second chances, beautiful. Not with you. You're my first chance."
Kat has her own secrets though they are not as dark as Ream's but still  painful to learn of. It wasn't hard to admire Kat as a heroine, she was a strong lady though at the beginning she annoyed me with the stubborn act. When she finally lets Ream in, it's perfection.
"I belong with you. I belong to you.
As Truths are unveiled, the story becomes more fast paced and towards the end we are hit with dark and shocking twists.
It was awesome to see Logan and Emily again, as well as  two supporting characters who made me smile big whenever they were mentioned or appeared,  Deck and Crisis. At the end of 'Overwhelmed By You', we see the potential for a love interest where Crisis is concerned and I CAN'T WAIT. I also am salivating at the fact that Deck will have his own novel, 'Perfect Chaos'.
Stellar writing, likeable characters, unexpected twists and turns with just the right amount of angst made for a very entertaining read that is 'Overwhelmed By You'
***ARC provided via NetGalley in exchange for an honest review***