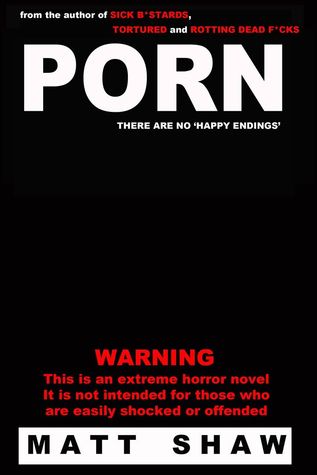 WARNING: THIS IS AN EXTREME HORROR NOVEL. There is gore. There is bad language. There are scenes of a sexual nature.
PORN tells the tragic tale of Victoria Sheldon – a young lady who wanted nothing more than to become an actress. With times being hard Victoria finds herself in the world of Adult Movie Industry where she soon carves a name for herself. Soon the offers are flowing in, as is the money, as she becomes more and more popular amongst the producers but then she meets him…A man with an offer she can't refuse. A man who has other ideas about how pornographic films should be filmed. A man catering for a much, much darker audience.
From the Dark Mind behind Sick B*stards, Tortured and Rotting Dead F*cks – PORN is a violent tale of sex and revenge. It is intended for a mature audience only
BUY NOW
I will not try and talk about the plot in this review because I can't without giving anything away- if you could call the following ramblings a review.
I went into this book with certain expectations, well it was recommended by Jahy (prepared myself for a crazy ride), this book totally surpassed my expectations and I think it mocked me at one time for daring to predict what will happen next!

So what do you call an author that navigates you through a journey, albeit a crazy, twisted and messed up one, then totally takes an unexpected detour that leaves you stunned! Well besides a great writer…

There was a twist towards the end which I totally hated, left me totally angry and wanting a rewrite…

However the ending of the book totally made up for it, this book will definitely stay with me for a while.
ABOUT THE AUTHOR
Matt Shaw
Once Published weekly in a lad's magazine with his photography work, Matt Shaw is also a published author and cartoonist. Has to be said, can be a bit of a flirt and definitely, without a shadow of a doubt, somewhat of a klutz.
Favourite books
"Roald Dahl's Collection of Short Stories"
Tim Burton's Melancholy Death of Oyster Boy
Anything, really, written by himself. Because he is that good