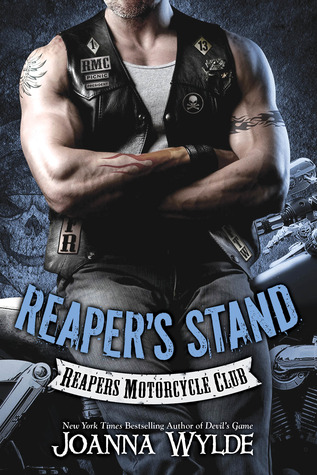 SYNOPSIS
As Reapers Motorcycle Club president, Reese "Picnic" Hayes has given his entire life to the club. After losing his wife, he knew he'd never love another woman. And with two daughters to raise and a club to manage, that was just fine with him. These days, Reese keeps his relationships free and easy—he definitely doesn't want to waste his time on a glorified cleaning lady like London Armstrong.
Too bad he's completely obsessed with her.
Besides running her own business, London's got her junkie cousin's daughter to look after—a more reckless than average eighteen-year-old. Sure she's attracted to the Reapers' president, but she's not stupid. Reese Hayes is a criminal and a thug. But when her young cousin gets caught up with a ruthless drug cartel, Reese might be the only man who can help her. Now London has to make the hardest decision of her life—how far will she go to save her family?
***ARC provided via Netgalley in exchange for an honest opinion***




Silvana

 

Rating : 🌟🌟🌟🌟

OK I have to start by saying that I was looking forward to Picnic's book and dreading it at the same time- I didn't like the last two books in the series much. Let me say Reaper's Stand did not disappoint but delivered in spades, IMO the best biker book I have read. This is not my go to genre and lately I have gravitated towards darker reads so to enjoy this so much was a delightful surprise.

Reaper's Stand was just engrossing, read it in one sitting.

Nancy

Rating : 🌟🌟🌟🌟🌟

I too was looking forward to reading Picnic's book and I just knew that it's going to be as pervy, as hot, as bad-ass and as engaging as Picnic! And it certainly did not disappoint! I LOVED it!

I devoured this book…  enjoyed the sizzling  romance, the humour, the suspense and the action. Definitely one of my favourite.

Silvana & Nancy's Joint Review

London or Loni runs her own cleaning business.. and one of the establishment that she service is Pawns, a pawn shop owned by the Reapers MC whose president is Reese Hayes a.k.a. Picnic.  And she worked hard to keep her relationship with the MC's on professional level….. That is until….

London is very protective when it comes to her niece, Jessica or Jess, who is trouble and self-destructive. So when Jess attended a party by no other than the Reapers MC, London had no choice but to ask Picnic a favour… to help her search for Jess and to ban her from going back to the club. And Picnic intends to collect on that favour specially since he had eyed London for  a quite sometime now. 😉

There are so many things that we loved about this book and one of those things is that both lead characters are more mature, experienced and well-rounded. It is quite a pleasing change.

If we loved Picnic before, we love him even more here. Picnic's character is just perfect, a great blend of good and 'assholish'. He wasn't at all what we expected and everything we wanted in a male lead. The chemistry between him and Loni (London) was sizzling. His POV had us laughing… like the way he flaunts to London that he has this huge (ehemm) sex drive…. 😉

Then, there was this particular scene which led to one HOT encounter, but London's thoughts made us laugh, thinking "lady you need help"- however it's Picnic so who could blame her. 

It was also endearing to read on Picnic's loyalty and love towards his late wife with the imaginary conversation he made out in his head.

We couldn't have picked a more perfect woman for Picnic with London. She is sweet, brave,  honest and tough where it counts. Loni got on our nerves a few times, but we have to say she is our favorite heroine so far in the series; although, in a moment of desperation, she failed and fucked up big time, we were left wondering as how she would be able to redeem herself after that. However the author, surprised us again, she not only redeemed London's character but she made her gain the respect of the entire MC brothers.

Every great biker story should, or preferably should always have that suspense and action that is part of the allure in their  dangerous world and lifestyle; here enters the ongoing war of the club against the drug cartel… And London just so happens to be caught up in the middle of it all!!

We love how the story came together and with just the perfect ending.

Old characters returned and new characters are introduced….

Can't wait for Jessica's book…. Our hearts bleed for her… What a complete tease on that Bonus Epilogue, we're sure Jess's story with her mystery biker is gonna be another hot read!
OTHER BOOKS IN THE SERIES