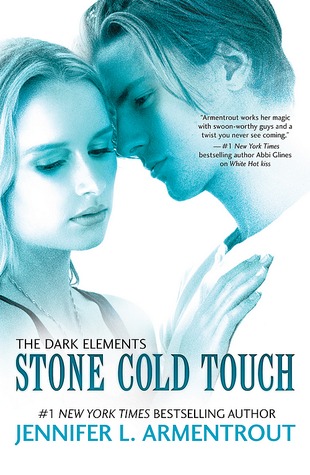 Stone Cold Touch (The Dark Elements #2) by Jennifer L. Armentrout
Publisher:

Harlequin Teen


Publication Date:

October 21st 2014


Genre:

YA Paranormal Romance
Synopsis
Every touch has its price
Layla Shaw is trying to pick up the pieces of her shattered life—no easy task for a seventeen-year-old who's pretty sure things can't get worse. Her impossibly gorgeous best friend, Zayne, is forever off-limits thanks to the mysterious powers of her soul-stealing kiss. The Warden clan that has always protected her is suddenly keeping dangerous secrets. And she can barely think about Roth, the wickedly hot demon prince who understood her in ways no one else could.
But sometimes rock bottom is only the beginning. Because suddenly Layla's powers begin to evolve, and she's offered a tantalizing taste of what has always been forbidden. Then, when she least expects it, Roth returns, bringing news that could change her world forever. She's finally getting what she always wanted, but with hell literally breaking loose and the body count adding up, the price may be higher than Layla is willing to pay…

Purchase Links: Amazon | iBooks | B&N | Kobo
~*~*~*~REVIEW~*~*~*~
IF ONLY…
If only I hadn't known about Roth.
If only I hadn't read book one.
If only …
Since I can't turn back the clock, I can only rate this 4 stars. I might even go as far to recommend people to read this book first, then go back to book one. LOL
You might have already known from blurb and other reviews that this book is about Layla and Zayne. Zayne, the brother! The brother that Layla had always had a crush on. This is for those that love reading that kind of fantasy comes true. It was a very good fantasy, and very well written. The tension, the make out scenes. They were all very good. But, I'm team Roth! Team Roth all the way!
How Layla flip flopped between the two was a bit annoying. I understood it because of their history, but it still made me feel dizzy. My heart was with Roth so even though my head understood it, It was hard for me to enjoy this. I couldn't believe Layla just took everything at face value, of what Roth said. Was Layla really that stupid? Or, am I reading a setup here?
Ok… enough about that. Storywise, it was good. The action, the plot…etc. I'm not gonna say too much about it. Just trust me. It's good! The twist near the end, and that cliffhanger left me wanting more! When is the next book getting out?
Also, I could care less about that bonus content. It was Zayne's POV, and it's not during that gigantic turn of event. I would love to hear his POV