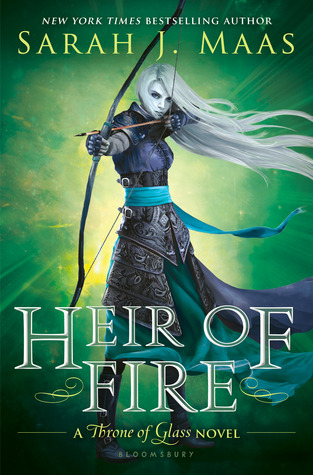 Heir of Fire by Sarah J. Maas
Publisher:

Bloomsbury USA Childrens


Publication Date:

September 2, 2014


Genre:

YA Fantasy
Synopsis
Lost and broken, Celaena Sardothien's only thought is to avenge the savage death of her dearest friend: as the King of Adarlan's Assassin, she is bound to serve this tyrant, but he will pay for what he did. Any hope Celaena has of destroying the king lies in answers to be found in Wendlyn. Sacrificing his future, Chaol, the Captain of the King's Guard, has sent Celaena there to protect her, but her darkest demons lay in that same place. If she can overcome them, she will be Adarlan's biggest threat – and his own toughest enemy.
While Celaena learns of her true destiny, and the eyes of Erilea are on Wendlyn, a brutal and beastly force is preparing to take to the skies. Will Celaena find the strength not only to win her own battles, but to fight a war that could pit her loyalties to her own people against those she has grown to love?

Purchase Links: Amazon | iBooks | B&N | Kobo
~*~*~*~REVIEW~*~*~*~
10 AMAZING STARS!!!!!
This is So good So good!!! It borderlined on becoming an adult urban fantasy book.
Unlike previous books, there were two storylines going on. Celaena and Manon the witch. I had yet to see how the two stories coincide.
This was a much deeper book than the normal YA fantasy. It centered on comradeship, loyalty, and empathy. The romance was there without it being explicitly written. You could literally see the connections forming between the characters before your eyes. But really who cares about romance when you had to deal with betrayal, evil king, the ever conniving fae, and meeting the deadline of mastering your power.
Like an adult UF book, this was very heavy on magic, and had multiple POVs. But the number of characters was relatively contained… so I didn't get confused unlike some other books.
The action was really good, the escape from the skinwalker, the battle against the Valgs, the downfall of XXXX, the War Game etc.
Lastly, I should mention I really liked this new friendship Celaena had. Chao's sacrifice now seemed water under the bridge. Sorry Chao, you didn't get forgotten just no longer the focus.