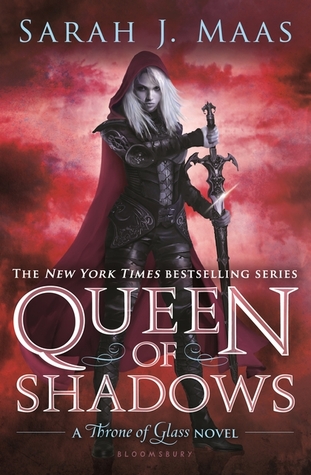 Queen of Shadows by Sarah J. Maas
Publisher:

Bloomsbury USA Childrens


Publication Date:

September 1st 2015


Genre:

YA Fantasy
Synopsis
Everyone Celaena Sardothien loves has been taken from her. But she's at last returned to the empire—for vengeance, to rescue her once-glorious kingdom, and to confront the shadows of her past . . .
She will fight for her cousin, a warrior prepared to die just to see her again. She will fight for her friend, a young man trapped in an unspeakable prison. And she will fight for her people, enslaved to a brutal king and awaiting their lost queen's triumphant return.
Celaena's epic journey has captured the hearts and imaginations of millions across the globe. This fourth volume will hold readers rapt as Celaena's story builds to a passionate, agonizing crescendo that might just shatter her world.

Purchase Links: Amazon | iBooks | B&N | Kobo
~*~*~*~REVIEW~*~*~*~
Plain Awesome!
Life is unfair in many ways. That is why we need fantasy. Entertainment aside, it is also therapeutic. There is no greater satisfying experience than to see your characters getting the ending that they deserve. I thank the author for not falling too far off from this rule. My heart almost went out when I first started the story, that
There was no greater couple than Rowan and Aelin. With all the hardship that Aelin had endured, it's only fair that God found her her soulmate. They were really well matched and understood each other so completely, not to mention the blood bond that they had. It was very cool to read their silent (or zero decibel) conversations. Romance was not the focus but still it was interweaved into the story really well. It's not cliche and not overdone, but just as swoony in teeny tiny doses. Sometimes it's the quality that matters, not quantity.
You make me want to live, Rowan. Not survive; not exist. Live.
I was always looking toward the horizon, always wondering what waited across the next ocean, over the next mountain. But I think … I think that whole time, all those centuries, I was just looking for you.
As usual, the plot was excellent as were the twists. What really stood out was the humor and the brilliancy of Aelin. She's such a strategist (and if I had to point out how… it'd be very spoilery you just have to read it) and one that was so brave and had such integrity. She did not abandon people, not even if they had wronged her, Chaol, Dorian, and others.
Dire situations reveal a person's true nature, perfect example.
As if dealing with Aelin's plotline was not enough, the author continued with the Blackleak Witch-Clan subplot that started in the previous book. This was why I mentioned in my previous review that this series was very close to become an Adult Fantasy novel, because of its plots and character complexities. Manon continued to evolve. Being the Wing Leader, she had to be ruthless and simply had to had no empathy, one quality that their clan was proud of or taught to become. Her dragon taught her, or in some ways had influenced her to become otherwise
Abraxos had tensed, his tail shifting over the stones. The useless beast was worried for the girl. Manon narrowed her eyes at him. "Isn't your kind supposed to eat young women?"
I'm looking forward to more of Manon and Elide story.
Multifaceted characters that keep on evolving.
Entertaining plots with stupendous comic relief and sassy comebacks.
Swoon worthy moments that will make your heart swells.
There wasn't really anything that I could complain, save the time that it took for each book to come out. But, it is so worth the wait.