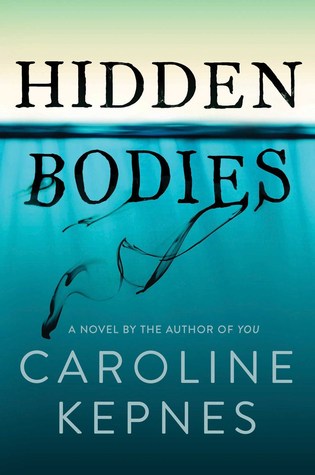 Hidden Bodies by Caroline Kepnes
Publisher:

Atria/Emily Bestler Books


Publication Date:

Expected February 23rd 2016


Genre:

Mystery Thriller
Synopsis
Charmingly murderous antihero Joe continues his twisted quest for the perfect love in this thrilling follow-up to the "deeply dark yet mesmerizing" You. When Joe follows the woman he wants to marry to the West Coast, he never imagines that his obsession will lead him to such tragedy…
After the heartbreak of losing his girlfriend, Beck, Joe Goldberg thought he'd never love again. But when mysterious Amy Adam begins working for Joe at Mooney Books, he finds himself obsessed with his new employee. Amy is Beck's opposite—she hates Twitter, she doesn't even have an email address, she's completely unsearchable online—and she quickly captures Joe's heart. But just before Joe can ask Amy to marry him, she disappears, leaving a trail of clues in her wake.
Joe is then forced to do something so vile, so awful that he nearly loses his mind: he moves to Los Angeles to find Amy. He is tortured by a series of aspiring Angelenos—an insufferable stand-up comedian, philistine booksellers, a money-hungry nanny, and a slutty ghostwriter—before meeting his ticket to a more luxurious world: a surgically enhanced, social media–savvy heiress named Love Quinn. But Joe can't stop stalking Amy, despite the world opening up to him with Love on his arm. Will Joe finally escape his sordid past? Or is Love just the latest casualty in Joe's unrelenting search for the perfect match?

Pre-oder Links: Amazon | iBooks | B&N | Kobo
~*~*~*~REVIEW~*~*~*~
TEN BRILLIANT PLUS STARS
Thus I've met my SECOND favourite book of the year!!!
I thought nothing NOTHING could top Six of Crows, but I was wrong! I felt so lucky that I was wrong.
This was in a totally different genre and I was glad that I crossed over. Sometimes, you just had to take the leap. I was so glad that I stuck with the series. I had almost given up because of the gritty style of writing in book one, but no such problem with book two. This completely surpassed book one, in terms of character development and plot twists.
The twists, they just kept on coming! I had lost count of them at the end. They're in the range of ten, I think. A lot of the stories I could guess where it's going to go, but not this one. Other than the brilliancy of Caroline Kepnes, it might have to do with the fact that I'd never really read a story that had villain as its protagonist.
Joe had grown so much as a psychopathic killer. He's definitely not as slick as Dexter, and definitely EVIL. There was no "legit" reason for him to go killing around, really, other than to serve his own. But, in the end, he changed. I hope that's not too spoilery…
It's such a brilliant brilliant story and it had depth at the same time. LOVE, love was all that matters.
ARC provided by NetGalley