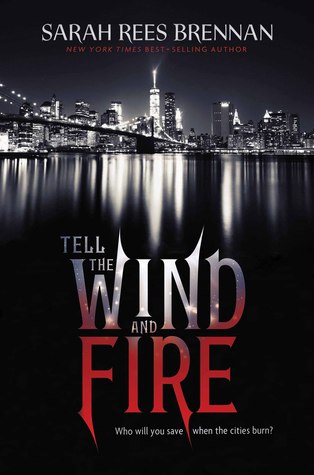 Tell the Wind and Fire by Sarah Rees Brennan
Publisher:

Clarion Books


Publication Date:

April 5th 2016


Genre:

YA, Retellings, Fantasy
Synopsis
In a city divided between opulent luxury in the Light and fierce privations in the Dark, a determined young woman survives by guarding her secrets.
Lucie Manette was born in the Dark half of the city, but careful manipulations won her a home in the Light, celebrity status, and a rich, loving boyfriend. Now she just wants to keep her head down, but her boyfriend has a dark secret of his own—one involving an apparent stranger who is destitute and despised.
Lucie alone knows of the deadly connection the young men share, and even as the knowledge leads her to make a grave mistake, she can trust no one with the truth.
Blood and secrets alike spill out when revolution erupts. With both halves of the city burning, and mercy nowhere to be found, can Lucie save either boy—or herself?
Celebrated author Sarah Rees Brennan tells a magical tale of romance and revolution, love and loss.

Purchase Links: Amazon | iBooks | B&N | Kobo

~*~*~*~REVIEW~*~*~*~
A semi-classic fantasy
I got quite bored. Could be because I didn't get Dickens? The style was written semi-classic. There were sentences like this:
So our holiday at Martha's Vineyard was a rare and special treat, sweet as only things that come seldom and do not last can be.
And then, not so classic like this
That was also a rare funny one.
I wished there were more like that but alas. I believe it was that style that made the pacing slower than it needs to be. But, on the other hand, it's a clever way of adding some classic feel to the story. I wouldn't mind the style if a lot more things had happened. Overall, I just found it not very exciting.
The concept was interesting though. A world divided by 2 groups of people, Dark Magic and Light Magic, one so very scared of the other but couldn't live without them. I'm a fan of paranormal so I was looking forward to that part of the story. But, that also fell short. I felt that the magic part didn't have enough meat in it. There were these cages that they basically used them as "guillotine" but I was never sure how they worked. Also, dark magic sounded way stronger, I couldn't quite understand why they were the underdog. I'm guessing it's because of their small number? Wouldn't that make them precious? It's obvious that the Lights need them.
Character wise, I only knew Lucie. Ethan and Carwyn just didn't get enough attention, especially Carwyn. It'd be so much more interesting if there were more of his POV.
ARC provided by NetGalley